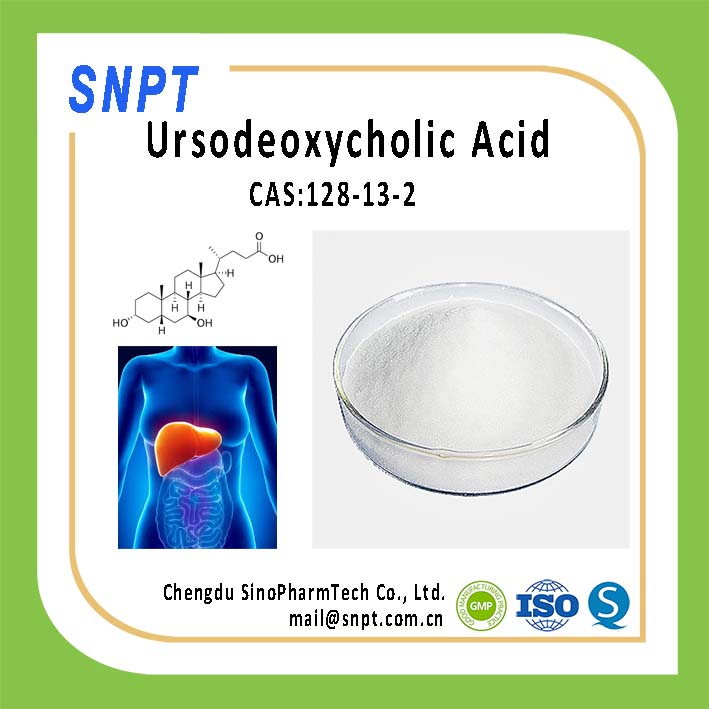 Basic information:
Product Name: Ursodeoxycholic Acid
CAS No.: 128-13-2
Other Names: UDCA
MF: C24H40O4
Grade Standard: Medicine Grade
Purity: 99% min  
Appearance: White or almost white powder
Description:
Ursodeoxycholic Acid is white powder,almost insoluble in water,freely soluble in alcohol
Ursodeoxycholic acid (UDCA), also known as ursodiol, is a compound produced from bile by the action of intestinal bacteria. Since this bile acid is not produced directly by the body, it is known as a secondary bile acid. One of the functions of bile acids is to act in the intestine to help digest fats and fatsoluble vitamins from food. Ursodeoxycholic acid has been used in pharmacology to dissolve gallstones made of cholesterol, and to treat liver disorders. It has been used for a long time in both human and veterinary medicine.
Functions:
1.  Can increase the secretion of bile acid;
2.  Reduce cholesterol in bile and cholesterol ester;
3.  Is conducive to the cholesterol gradually dissolve gallstones;
4.  Should not be used for surgical treatment of cholesterol stone, but cannot dissolve the bile pigment stone, mixing and opaque X line of stones.